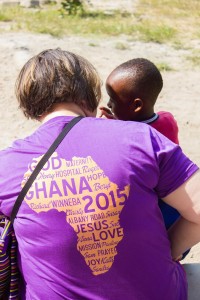 Albany Road Baptist Church is affiliated with and supports numerous missionaries and mission initiatives around the world.
We have an ongoing relationship with the Baptist Missionary Society and in recent years have had close ties with The Harris-Bafendes as they have worked with a mission hospital in Guinea. This has been particularly dangerous and important work during the recent Ebola Epidemic.
We also support the work of the Leprosy Mission and have in the past through the tireless devotion of one church member raised considerable financial support for their on-going work particularly in Nepal
In 2014 ARBC lead a team of 12 church members to its sister church, Sankor Baptist Church in Winneba, Ghana. This team was able to add to its spiritual growth by helping with various projects such as painting the first floor of a newly built maternity wing of the local hospital and teaching Sunday school classes and in the local school.
We have recently returned from a second trip to Winneba in August 2015 and a mission trip to Calcutta is possible with the BMS in 2016.
In this way we are seeking to expose members of the church here to different cultures and churches across the world not simply so that we might Go to the Word and Show the Love of God but in a reciprocal arrangement where we learn as much as we leave.